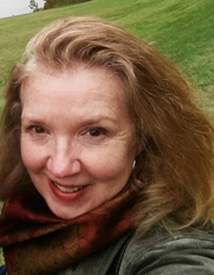 Christine M. Nauman is an accomplished artist working in oil on canvas for more than twenty-six years. Born in 1954 and raised in Chatham, New Jersey, she demonstrated natural talent at a young age and began art lessons in charcoal and pastel in 1963. Two years later, she exhibited landscape and still life compositions in a northeastern fine art gallery. Receiving awards and acquisitions at a young age, also encouraged her to create and develop her art. In 1966, Nauman began visiting art museums in NYC. Favoring oil paintings created centuries earlier, she transitioned to the oil medium, and private lessons continued until 1970.

A professional artist for over twenty-six years, she works in oil using a tonal palette with delicate brush strokes; applying multiple layers of paint to landscapes depicting autumn and winter scenes depicting the changing light of day. Her landscapes designed in an impressionistic palette and thickly applied oils of the spring and summer seasons when colors in nature when floral and foliage are abundantly vivid.
Still life paintings staged in her studio one month during winter and similar in style to the 18th century Dutch Masters.
Although her art remains unique due to her individual style, Nauman's paintings have been compared by patrons to Corot, Murphy and Innes for her autumn and winter scenes. Pissarro, Renoir, Van Gogh, Twachtman and Hassam for her spring and summer scenes. While many of her paintings are acquired for a particular setting in the homes of collectors, a few were purchased to notably hang in heirloom collections with artists
from the 17th - 19th century; J.M.W. Turner, Jean-Baptiste-Camille Corot, Camille Pissarro, Renoir and Childe Hassam.
From 1982 to 1986 Nauman lived in Tokyo. She traveled throughout Japan and other cities in the Far East; Hong Kong, Seoul, Singapore, Bangkok, Beijing and Shanghai. While experiencing the culture and traditions during those four years, she perceived infinite beauty in simplicity and applied this philosophy to her landscapes by eliminating inessential details, and concentrate on various light reflections for an overall ethereal effect that appears within the paintings.

During those same years and after her return to the states, travel to England, France, Spain, and Italy amplified her artistic depth exploring museums in London, Paris, Barcolona, Milan, Florence, Rome and the countryside of each. Memories coupled with sketches and notes on picturesque landscapes and imagination are depicted in many of her paintings that focus on early morning and late afternoon. Nature's vast beauty often includes feelings of solitude when one contemplates infinite vision and wisdom.

Excluding years of self study from her extensive collection of art history books and visiting museums globally, training is as follows:
1963-1966 - Still life, figurative and landscape in charcoal and pastel - Chatham, New Jersey
1966-1970 - Still life and landscape in oil - Chatham, New Jersey
1973-1975 - Liberal Arts - Centenary College for Women - Hackettstown, New Jersey
1979-1981 - Methods of the Masters in oil - Houston, Texas
1983-1986 - The Ichiyo School of Floral Art - Tokyo, Japan
1984-1985 - Life Drawing in charcoal - Tokyo, Japan
1987-1989 - Life Drawing in charcoal - New Jersey Center of Fine Art - Summit, New Jersey
As of 2017, Christine M. Nauman's original oil paintings have been acquired by over 1500 private collectors. Many of these collectors around the globe remain in contact and acquisitions continue as patrons. Additional paintings of hers are acquired through fine art galleries.